Durango Colorado Climate & Weather
Daily Weather Forecasts for Durango Colorado
Weather data provided by the U.S. National Oceanic and Atmospheric Administration
---
Forecast discussion unavailable, please try later.
Source: NWS Office Area Forecast Discussion
---
Hourly Durango Weather Graph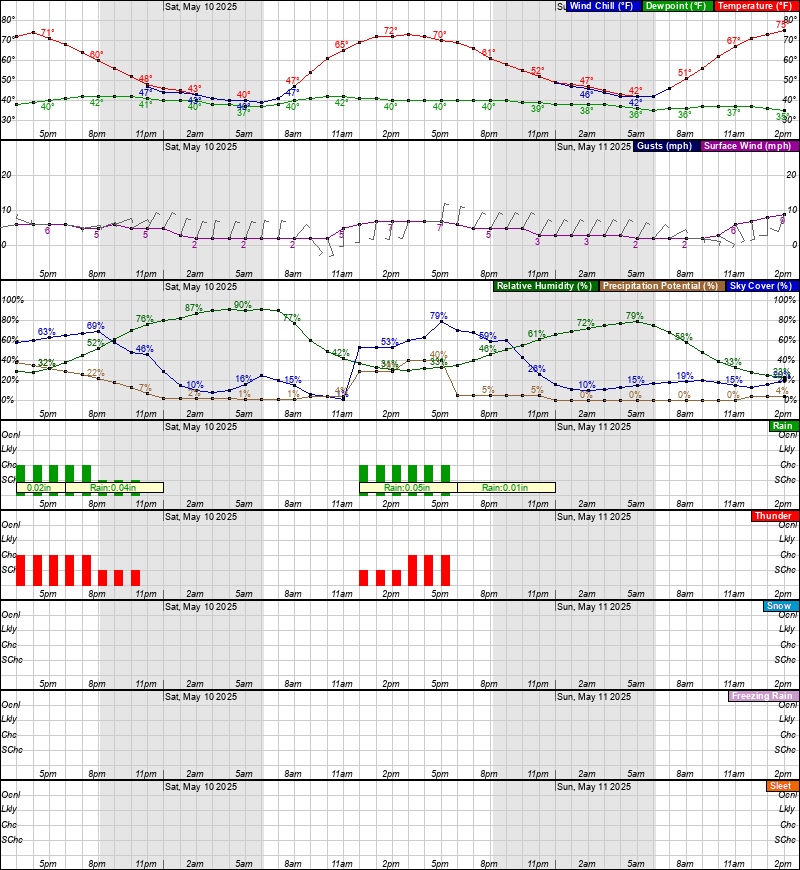 Durango, Colorado gets 18 inches of rain, on average, per year. The US average is 38 inches of rain per year.
Durango averages 67 inches of snow per year. The US average is 28 inches of snow per year.
On average, there are 266 sunny days per year in Durango. The US average is 205 sunny days.
Durango gets some kind of precipitation, on average, 85 days per year. Precipitation is rain, snow, sleet, or hail that falls to the ground. In order for precipitation to be counted you have to get at least .01 inches on the ground to measure.
| | | |
| --- | --- | --- |
| Mean Monthly Temperature: | | |
| Mean Daily Maximum Temperature: | | |
| Mean Daily Minimum Temperature: | | |
Summer High: the July high is around 86 degrees
Winter Low: the January low is 12
Rain: averages 18 inches of rain a year
Snow: averages 67 inches of snow a year
Solar Index: 85 percent of time sun – great solar exposure.
---
Durango Colorado Climate, Snowpack and River Flows
Durango Downtown is your hub for Durango CO climate climate and weather information. Also providing you with Colorado snowpack and river flow information in our area including the Animas River and the San Juan River. Be sure to check out our Avalanche Feed and regional Ski and Snow Reports as well. Happy and safe adventuring.
Durango is situated near the "Four Corners" — the only spot in the United States where four states meet. Though Colorado towns have the image of being hemmed in by high mountain passes, this is not the case with Durango. Those businesses needing to transport their wares by highway to markets located from the Southeastern United States all the way west to central and southern California, will experience few, if any, problems. No high passes impact access south from Durango to Interstate Highway 40. In addition, Durango is served very capably by aircraft and large interstate motor carriers. The map below helps to illustrate the location of Durango relative to other states.
La Plata County's climate is considered ideal thanks to moderate temperatures and distinctly beautiful seasons. Snowfall at the higher elevations is typically great for skiing and in the towns, such as Durango at 6,512 feet of elevation, snow removal is only an occasional chore of manageable size. In summer temperatures seldom climb above the high eighties and spring is characterized by afternoon showers which bathe the land and stimulate verdant growth. Fall brings the promise of "Indian Summer" and clear, dry, cool days – perfect for hiking or driving in the mountains to view the golden leaves of the Aspen and the dark red and orange hues of the Gamble Oaks. Winters are generally mild, sunny and dry with seldom a day of temperatures even close to zero.
---
San Juan Basin Snowpack

View Source Image. Courtesy of USDA NRCS
---